Specialised Inflation Controllers
89XHP
High Pressure Inflation Controller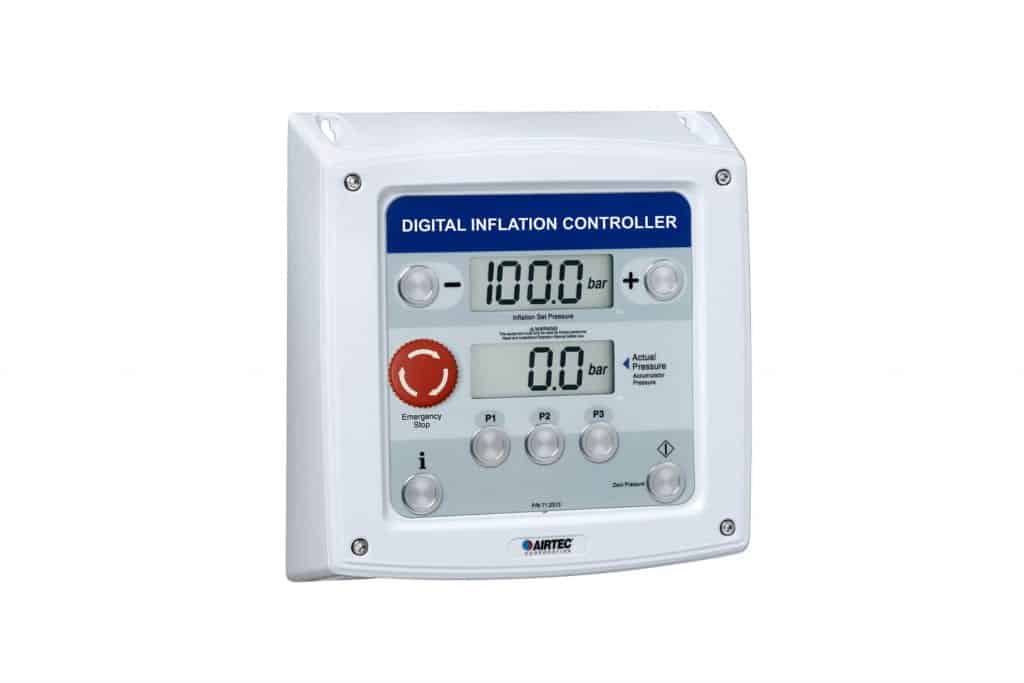 Airtec's digital inflator technology offers high accuracy and improved safety when adjusting or charging high pressure accumulators and shock absorber struts used in aviation, rail, mining, heavy transport & industrial applications.
The 89XHP100 is designed with a high pressure control valve (up to 100 bar / 1450 psi) and comes equipped with high pressure hoses and a high pressure inflating connection (H-556). The 89XHP's program can be customised to inflate a range of different volume actuators, accumulators and shock absorbers or struts. 89XHP300 is specially designed for inflation pressure up to 280 bar / 4060 psi.
Supplied with 10m steel braided hose
Customisable preset pressure switches
Vandal resistant piezo switches
Construction
Diecast aluminium enclosure (IP66)
Dimension
269 W x 285 H x 106 D mm
Power requirements
11-18Vdc / 8-16Vac / 110V-120V, 50 or 60Hz / 220V-240V, 50 or 60Hz
Units of measurement
psi / bar / kPa (MPa)
Operating range

89XHP100 : 50-1450 psi, 3.0-100 bar, 0.3-10 MPa

89XHP300 : 100-4060 psi, 7.0-280 bar, 0.7-28 MPa

Accuracy
+/- 0.5% FS
89XDS
Pressure Leak Tester
Introducing 89XDS Pressure Leak Testers which are purpose-built to suit a large range of leak testing applications utilising air pressure. The units feature Airtec's proven industry-leading automatic digital inflation technology.
The 89XDS automatically inflates the test object to a high accuracy, then tests for any pressure leaks over a defined period of time and tolerance. Test parameters and set pressures can be readily adjusted and optimised for efficient inflation and leak testing.
Supplied with 10m steel braided hose
Pass/fail test indication
Automatic leak testing – setup, run and leave for the test to complete
Vandal resistant piezo switches
Construction
Diecast aluminium enclosure (IP66)
Dimension
269 W x 285 H x 106 D mm
Power requirements
220V-240VAC (optional 12VDC or 100~120VAC)
Units of measurement
psi / bar / kPa (MPa)
Operating range

89XDS2 : 1-29 psi, 0.06-2.0 bar, 6-200 kPa

89XDS10 : 5-145 psi, 0.3-10.0 bar, 30-1000 kPa

89XDS25 : 10-362 psi, 0.7-25.0 bar, 0.07-2.5 MPa

89XDS100 : 50-1450 psi, 3.0-100 bar, 0.3-10 MPa

89XDS300 : 100-4060 psi, 7.0-280.0 bar, 0.7-28 MPa

Accuracy
+/- 0.5% FS