Stainless Steel Cabinet Inflators
FSC/FSD
Stainless Steel Cabinet Inflators (with Compressor)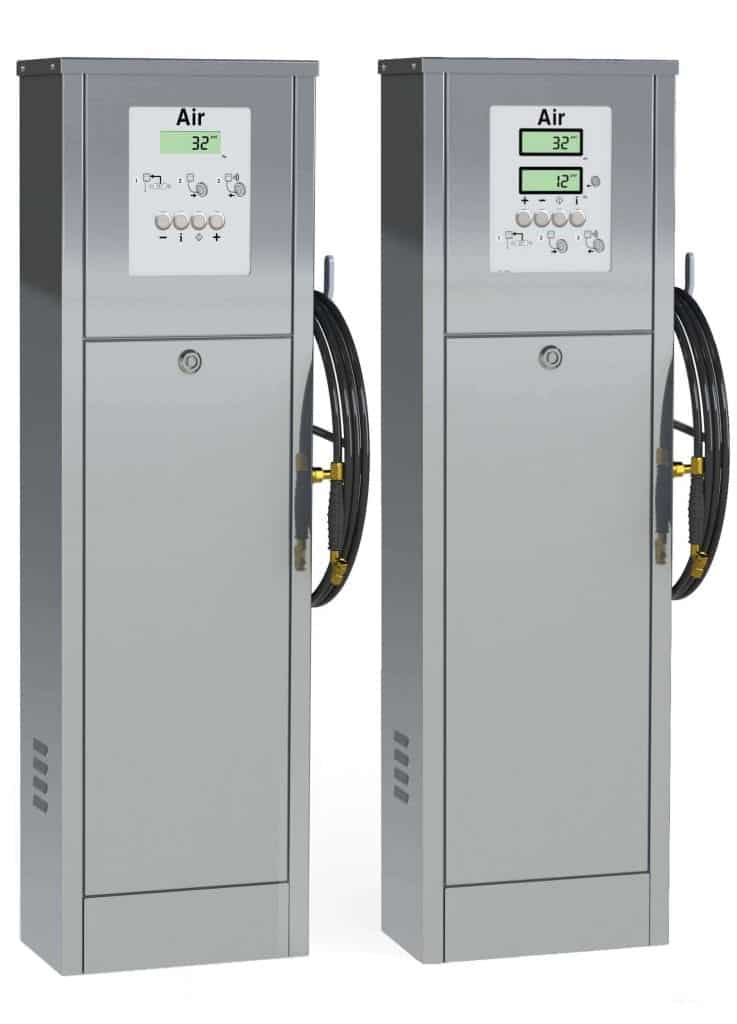 Specifically designed for sites where compressed air supply is not available. The stylish stainless steel FSC can have an option to be supplied with a twin head compressor, built into the enclosure. FSD is a dual display version of FSC model.
Optional in-built high pressure, long service life compressor
Stylish stainless steel enclosure suits any forecourt stations
Supplied with 10m hose kit
Vandal resistant piezo switches as standard
Construction
Stainless steel enclosure / polycarbonate inflator body
Degree of Protection
Enclosure IP44 / Inflator IP66
Dimension
353 W x 1175 H x 233 D mm
Power requirements
220V-240VAC (optional 100~120VAC)
Units of measurement
psi / kPa / bar / kg/cm²
Operating range
5-145 psi / 35-1000 kPa / 0.3-10.0 bar / 0.4-10.2 kg/cm² (without in-built compressor)
5-116 psi / 35-800 kPa / 0.3-8.0 bar / 0.4-8.1 kg/cm² (with in-built compressor)
Accuracy
+/- 0.5% FS
FSL
Stainless Steel Cabinet Inflator (with Large Display)
Based on stylish FSC freestanding unit, the FSL offers further differentiation with a bright and attractive LCD display. The FSL is well suited for petroleum forecourts and in applications where users struggle to view standard LCD display which is small.
Optional in-built high pressure, long service life compressor
Stylish stainless steel enclosure suits any forecourt stations
Supplied with 10m hose kit
57mm digits visible from a long distance (as compared to the standard 25mm digits)
Vandal resistant piezo switches as standard
Construction
Stainless steel enclosure / polycarbonate inflator body
Degree of Protection
Enclosure IP44 / Inflator IP66
Dimension
353 W x 1175 H x 233 D mm
Power requirements
220V-240VAC (optional 100~120VAC)
Units of measurement
psi / kPa / bar / kg/cm²
Operating range
5-145 psi / 35-1000 kPa / 0.3-10.0 bar / 0.4-10.2 kg/cm² (without in-built compressor)
5-116 psi / 35-800 kPa / 0.3-8.0 bar / 0.4-8.1 kg/cm² (with in-built compressor)
Accuracy
+/- 0.5% FS